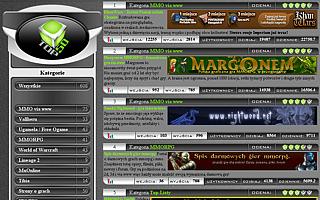 Toplista
Although the world has already noticed toplists and there are strong products like
gamesites200.com
, or our southern neighbors`
toplist.cz
, in Poland it is a completely neglected and amateur market. Everything that exists has very limited capabilities built within one toplist provider. A number of terrible quality toplists use ready engines, usually open source, without any modification, often even in the visual layer.
Narrowing the picture only to the gaming toplists - it gets event worse.
The principle of the toplist is mutual, indirect advertising by its members. Signing in to a toplist users put link or toplist button on their website and pass the network traffic. Toplist in turn consists of members` banners and information about them. It redistributes the traffic from one member to the others and so on.
Top50 Games
Top50 Games was created in the absence of a decent toplist on the market, with which we could cooperate. At the beginning it was launched as more of an experiment than a serious project, but rapidly growing number of members and network traffic almost immediately verified that.
Not to reinvent a wheel, the toplist at the beginning was based on a PHP Aardvark Topsites script distributed under GNU General Public License. We have gradually added new features not available in the original script, and all the parts of the code are prescribed for improving the efficiency, so that it manage the growing popularity Top50 Games.
The biggest toplist
Currently Top50 Games is undoubtedly the largest gaming toplist in the country: over 500 different sites are signed to it, the toplist button is displayed more than 2 million times a day, and the toplist is daily visited by nearly six thousand unique users.